𝐉𝐢𝐚𝐝𝐨𝐧𝐠 𝐂𝐡𝐞𝐧'𝐬 𝐀𝐳𝐮𝐫𝐞 𝐒𝐞𝐜𝐮𝐫𝐢𝐭𝐲 𝐂𝐡𝐚𝐥𝐥𝐞𝐧𝐠𝐞!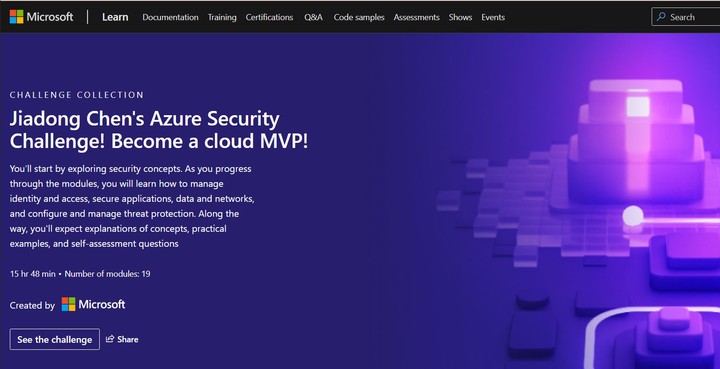 I am privileged to host a Cloud Skills Challenge on Azure security with Microsoft!
🏆 𝐉𝐢𝐚𝐝𝐨𝐧𝐠 𝐂𝐡𝐞𝐧'𝐬 𝐀𝐳𝐮𝐫𝐞 𝐒𝐞𝐜𝐮𝐫𝐢𝐭𝐲 𝐂𝐡𝐚𝐥𝐥𝐞𝐧𝐠𝐞! 𝐁𝐞𝐜𝐨𝐦𝐞 𝐚 𝐜𝐥𝐨𝐮𝐝 𝐌𝐕𝐏!
This challenge will help you learn the fundamentals of Azure security and better understand the cloud. Working with Microsoft has been an incredible experience, as they have shared their expertise to help me create a challenging and rewarding learning experience.
This Azure security challenge's topics are summarized in the following sections:
Section 1: Overview of General Cybersecurity Concepts
Section 2: Introduction to Security Concepts in Azure
Section 3: Managing Identity and Access with Azure AD
Section 4: Securing data and applications in Azure
Section 5: Securing Azure Networking
Section 6: Implementing SIEM and SOAR in Azure
You'll start by exploring general security concepts. As you progress through the learning modules, you will learn how to manage identity and access, secure applications, data and networks, and configure and manage threat protection. Along the way, you'll expect step-by-step explanations of basic concepts, practical examples, and self-assessment questions.
Whether you are a beginner or an experienced learner, in this cloud security skills challenge, or bootcamp, you will gain interesting experience and knowledge related to Azure cloud security!
---